School Profile
Villamor Air Base Elementary School is located at Barangay 183 used to be  a Military Reservation Area. It was part of the former Nichols Air Base (now Barangay Villamor) in Pasay City. Barangay Villamor was a former village for enlisted personnel of the Philippine Air Force (PAF)  known as "Airmen's Barrio". But with the passage of the Bases Conversion Act during the Ramos administration, some portion of Villamor Air Base were sold and developed into commercial use. The school is situated within a well-developed community and steps away from premier residential and entertainment hub dubbed as Manila's first integrated tourist destination,  "the New Port City."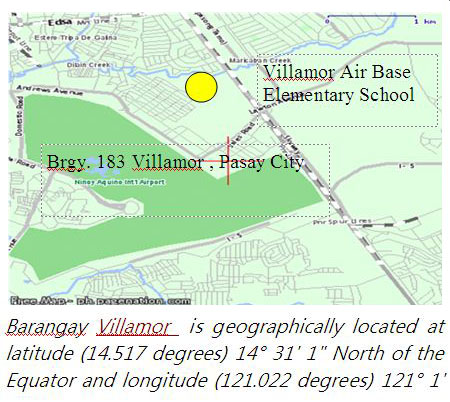 Personnel
       Villamor Air Base Elementary School has one Principal IV and one Assistant to the principal,132 teaching personnel. Serving in this institution are 4Master Teachers II, 9 Master Teachers I, 23 Teachers III, 26 Teachers II, 73 Teachers I, and 10  pre-school teachers. There are four (4) non-teaching personnel who are  nationally funded and others paid by the local government (LSB).
 Special Features
  The learning facilities of the school are adequate. There are 87 instructional classrooms which include 81 academic classrooms, 1 Science Laboratory, 2 Industrial Arts room), 2 Home Economics Practice Houses and one (1) ICT laboratory. For ancillary services, the school has one (1) library, a Guidance Center, nurseries, two (2) property rooms, two (2) canteens, one (1) school clinic, play area, badminton and volleyball court, gymnasium, and 8 teachers' rooms. A total of 16 comfort rooms serve pupils in all grade levels.
     This school has electricity (grid supply) and water line (local piped water). It has also complete fencing.